Pet care is on pace to be the next big opportunity in the CBD consumer-packaged-goods (CPG) market. Now you will be aware of the use of
hemp oil for cats
and other pets. In 2018, pet product sales totaled $9.4 million for adult-use cannabis retailers in California, Colorado, Nevada and Washington.
Business Attorney at Bianchi & Brandt
Clark Wu is a business attorney and litigator at the firm. He brings a well-rounded background in several different practice areas, which makes him a vital member of the firm's cannabis and hemp, commercial and business litigation and corporate transactions departments.
Clark assists clients with transactional matters of varying complexity and provides continued legal counsel up and through the closing.  He is also involved in helping clients with their general business matters, such state and federal trademark application and maintenance, branding, corporate structuring, employment issues, risk analysis, and management disputes.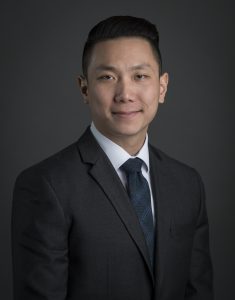 Cannabis and hemp clients rely on Clark to provide comprehensive legal advice regarding licensing, operational issues, state and federal regulations, FDA enforcement, and a variety of day-to-day compliance matters. In this capacity, Clark has helped clients resolve regulatory issues with the Arizona Department of Health Services, the Arizona Department of Agriculture, the Arizona Department of Public Safety, and other regulatory bodies.
Clark's litigation experience has also proved incredibly beneficial to clients, as it enables him to explore transactional issues with a litigation perspective.
In his spare time, Clark has been known to dabble in cooking and experimenting with any exotic food he has had the opportunity to encounter. Clark has now eaten his way across three continents and is still hungry for adventure.
Bianchi & Brandt is a full-service business, real estate and litigation law firm with an emphasis on the cannabis and hemp industries.
Bianchi & Brandt is led by shareholders and law partners Laura A. Bianchi, Esq., and Justin M. Brandt, Esq., who have been advising individuals and businesses in the cannabis industry since 2010.
Headquartered in Scottsdale, Arizona, Bianchi & Brandt provides counsel on various day-to-day issues regarding business operations, corporate transactions, regulatory and administrative compliance, as well as represents clients throughout all stages of litigation.
ARTICLE
Pet care is on pace to be the next big opportunity in the CBD consumer-packaged-goods (CPG) market. In 2018, pet product sales totaled $9.4 million for adult-use cannabis retailers in California, Colorado, Nevada and Washington.
Despite the obvious interest on a consumer level, CBD is still a broad term and hazy one when it comes to state and federal regulations.
What is CBD?
CBD is short for cannabidiol, or a chemical compound found in the cannabis plant. However, there are two legal classifications for the cannabis plant—hemp and "marijuana."
Hemp plants are differentiated from "marijuana" plants by the amount of THC, which is defined as less than 0.3 percent. And "marijuana" is used to refer to cannabis plants containing more than 0.3 percent THC. While CBD may be found in all cannabis plants, CBD is especially prevalent in hemp plants, which contain low to no THC levels. As such, CBD products on the market likely derive from CBD extracted from hemp plants.
Ultimately, whether a cannabis plant is a hemp or "marijuana" plant depends on the plant strain of the cannabis and how the growers cultivate such plants.
Are there any FDA guidelines?
The 2018 U.S. Farm Bill legalized hemp and hemp derivatives—including CBD; however, it tasked the states with the responsibility of developing their own regulatory structures for their state hemp programs. Currently, while many states have stringent regulations regarding the cultivation, harvesting, and processing of hemp, only a few have implemented laws addressing finished CBD-hemp products.
Here is how the FDA is currently handling CBD and pet products:
The FDA prohibitsthe sale of any animal food or feed in interstate commerce to which THC of CBD have been added.  This is because THC and CBD are regulated as "drugs" under the Food Drugs & Cosmetics Act ("FDCA"), and the FDCA prohibits the addition of "drugs" to food without FDA approval.
The FDA has approved these hemp seed derivatives that may be added to pet food sold in interstate commerce since, "the hemp seed-derived ingredients . . . contain only trace amounts of THC and CBD, which . . . is not capable of making consumers 'high.'"

Hulled hemp seed (GRN765)
Hemp seed protein powder (GRN771)
Hemp seed oil (GRN778).

Adding CBD Hemp to pet foods violates the FDCA by:

(a) marketing for sale unapproved new animal drugs without FDA approval; and (b) marketing for sale adulterated animal foods containing drugs without FDA approval.
Example: Marketing for the interstatesale of pet treats coated with CBD/hemp oil likely violates the FDCA unless the coating is with seed oil (one of the approved hemp seed derivatives listed above).

The FDA has recently issued fifteen warning notices to CBD companies adding CBD to human and pet foods for sale in interstate commerce.

Example1: Hemp Pet Treats constitutes an unapproved new animal drug under the FDCA. The warning letter is available here:https://www.fda.gov/inspections-compliance-enforcement-and-criminal-investigations/warning-letters/organix-industries-inc-dba-plant-organix-593512-11222019)
Example 2: CBD infused Chill Chews Soft Chews for Dogs constitute adulterated animal foods. The warning letter is available here: https://www.fda.gov/inspections-compliance-enforcement-and-criminal- investigations/warning-letters/sabai-ventures-ltd-593865-11222019
In conclusion, only at the FDA's approval can the use of a substance which is an active ingredient in a drug be added in a food (section 301(ll)(2) of the FD&C Act [21 U.S.C. § 331(ll)(2)]).  To date, no such regulation has been issued for any substance.
While this might not be helpful to CBD companies, the FDA does provide the following exception to the statement above: "ingredients that are derived from parts of the cannabis plant that do not contain THC or CBD might fall outside the scope of 301(ll), and therefore might be able to be added to food."
Can I produce and sell pet products containing CBD?
 Unfortunately, like most questions related to CBD, the answer is – it depends.
While the FDA currently prohibits the sale of any animal food or feed containing CBD in interstate commerce, CBD companies may be able to sell CBD products intrastate (i.e., within state lines)—so long as the state's laws and regulations allow for it.
The good news is, despite its vague legal status, CBD Hemp is a trend that is already making a market impact and will have to be addressed by all states sooner rather than later.
The FDA has also announced that it is looking into ways regulate CBD products. So, there might be hope in the horizon for CBD companies hoping to sell CBD pet products across state lines.
For more information visit:
https://www.fda.gov/news-events/public-health-focus/fda-regulation-cannabis-and-cannabis-derived-products-including-cannabidiol-cbd#food