Authors
Edd Gaus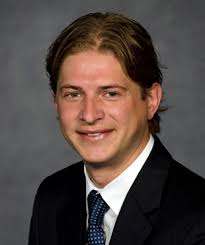 PRACTICES
Edd's practice includes a wide range of topics, including product liability, pharmaceuticals, automotive and data security and privacy. During his time at Shook, Edd has served on several successful trial teams and represented a diverse set of clients ranging from Fortune 500 companies, tenants and California inmates alleging Eighth Amendment violations. Most recently, Edd served on a trial team in rural Alaska and contributed to a defense verdict in Hunter v. PMUSA. Edd has also participated in several successful mediations and settlement conferences and uses a calm and thoughtful demeanor to put his clients in the best possible position for success.
Edd has a deep commitment to pro bono work and has volunteered a significant portion of his time to assisting pro se plaintiffs and underprivileged tenants facing eviction. Edd enjoys digging deep into the facts of a case in order to fashion the best defense for his clients. At trial, Edd has prepared cross-examinations of fact and expert witnesses and has served as lead trial counsel for two federal trials in the Eastern District of California. Edd has practiced in both federal and state court and specializes in interstate discovery procedures and expert witness development.
Naoki Kaneko
PRACTICES
Naoki represents clients in the food and beverage, personal care, technology, automobile, and pharmaceutical industries in cases throughout the country. He has significant experience defending clients in class actions and multidistrict and consolidated mass tort litigation.
Naoki generally defends clients against product liability, breach of contract, and consumer protection claims, including those brought under California's Unfair Competition Law and Consumer Legal Remedies Act. He also counsels and defends clients against claims involving California's Safe Drinking Water and Toxic Enforcement Act (Prop. 65). Naoki's experience includes all phases of litigation, including trial and trial preparation, and where appropriate, he has successfully negotiated the early and efficient settlement of both one-off and class action matters.
CONTACT
Shook, Hardy & Bacon L.L.P.
816-559-0418 | lmarkey@shb.com
Since Colorado and Washington became the first states to legalize recreational marijuana in 2012, research continues to identify positive benefits, further driving up already increasing sales of cannabis-related products. As investors smell the potential for a "green rush," the number of companies seeking to enter the market will continue to grow. For those who distinguish themselves and succeed – as the saying goes – heavy lies the crown. This is especially true in California, where cannabis companies have already faced an initial wave of litigation.
Those entering, or already part of, California's cannabis market should prepare themselves for a wide array of legal challenges, including personal injury claims, intellectual property disputes and attacks on marketing. Like makers of traditional foods and beverages, recreational CBD- and THC-infused product makers should be wary of consumer fraud claims attacking marketing and labeling claims. "All Natural" and "No Artificial Flavors" are just a few examples of statements that have entangled companies in litigation for years. Similar lawsuits have already been filed against cannabis companies alleging, for example, that product labels overstate CBD levels. Cannabis companies that include claims about the content or therapeutic effects of products should expect similar scrutiny. Those expecting to thrive in the new frontier of CBD- and THC- infused products should familiarize themselves with consumer protection laws to mitigate the risk of liability. In the largest U.S. market, California, for example, companies should be aware of the following laws:
Unfair Competition Law – California's Unfair Competition Law (UCL), codified at Business and Professions Code section 17200 – 17210, prohibits unfair competition. This is broadly defined as "any unlawful, unfair or fraudulent business act or practice," including false or misleading advertising prohibited under the False Advertising Law (discussed below). In order to have standing to sue under the UCL, a plaintiff must have suffered an injury in fact and lost money or property as a result of a defendant's conduct, and courts have generally held that purchasing mislabeled products can satisfy this requirement. (Cal. Bus. & Prof. Code § 17204). Damages under the UCL are equitable in nature, meaning they are generally limited to injunctive relief and restitution, but attorneys' fees may be available.
False Advertising Law – Ordinarily, a complaint that alleges a UCL violation also includes a claim under California's False Advertising Law (FAL). The FAL, codified at Business & Profession Code §§ 17500-17509, prohibits false advertising in connection with the sale of real or personal property or services – similar to the UCL's prohibition against "untrue or misleading advertising." Further, a defendant's knowledge of wrongdoing or the falsity of the advertisement is not required to establish a FAL claim. Similar to the UCL, purchasing mislabeled products will likely be sufficient to establish standing.
Consumer Legal Remedies Act – Unlike the UCL or FAL, which contain general language prohibiting unfair or deceptive practices, the California Legal Remedies Act (CLRA) provides a specific list of 27 "unlawful" activities. Cal. Civ. Code § 1770(a)(1)-(27). To pursue a claim under the CLRA, a plaintiff must be a "consumer" of goods or services, meaning "an individual who seeks or acquires, by purchase or lease, any goods or services for personal, family, or household purposes." Cal. Civ. Code § 1761(d). In contrast to the UCL and FAL, however, the CLRA authorizes the recovery of damages, including punitive damages and attorneys' fees. Cal. Civ. Code §§ 1780(a)(1)-(5) & (e). As a result, plaintiffs typically package claims under the UCL, FAL, and CLRA to maximize their available damages, opening up the possibility that a defendant could face significant liability, which in some cases includes punitive damages.
Cannabis companies should also expect a variety of "tag-along" claims. These include breach of warranty claims, which focus on the representations – express and implied – accompanying a sale. While companies may also see unjust enrichment or traditional fraud-based claims, such claims often tend to be outweighed by UCL, FAL, and CLRA claims. Smelling the potential for large awards, including significant attorneys' fees, ambitious plaintiff's counsel continue to focus on successful cannabis companies.
Before placing a THC or CBD product into the stream of commerce, cannabis companies should revisit their marketing and labeling to determine whether any openings for liability are present – even if slight. The California Department of Public Health has issued labeling guidance with some "Dos and Don'ts" to help companies navigate the often fluid world of cannabis regulation. For example, the CDPH discourages the use of descriptors such as "organic" or those identifying a specific county of origin. The guidance also notes that labels that include unproven health claims can lead to additional liability exposure from the FDA. Retaining counsel experienced in navigating dense and complex labeling regulations is critical, as the inclusion of a single word can expose a company to a landslide of litigation.
Any cannabis company expecting to succeed in the new "green rush" will inevitably face litigation. But those that take the extra time to carefully scrutinize labeling before distributing into the stream of commerce will sleep easier knowing they have at least tried to mitigate potential consumer claims in California.