In these recent weeks we celebrated becoming only the second licensed producer of cannabis in the UK. A great achievement and one that gives UK patients a much needed local supply, cutting import costs whilst lowering emissions.
The UK are seen as pioneers in climate action and are vocal supporters of the Paris Agreement. A backdated agreement to 1990 sees the Government committed to reducing emissions by a whopping 78% by the year 2035. This would be a monumental achievement but nobody is addressing the elephant in the room, cannabis.
An industrial crop which holds huge potential for the British people through job creation, population health and land repurposing to name just a few. This natural super crop also holds a big risk when controlled by humans, which so far has been mostly ignored by our friends across the pond in North America. Canada and the States have seen a huge increase in the waste product created by indoor grow facilities. In a Nature Sustainability report researchers found that the climate impact per kilogram of dried cannabis flower ranges from the equivalent of 2,283 kilograms CO2 in Long Beach, California to 5,184 kilograms CO2 in Kaneohe Bay, Hawaii. The median value is 3,658 kilograms CO2, the equivalent of driving 9,077 miles in an average passenger car.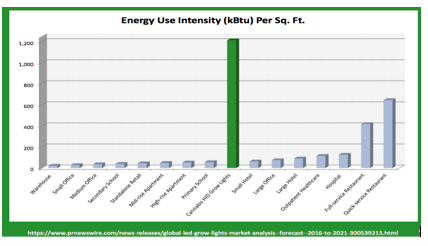 This makes Boris Johnson's comments slightly confusing;
The UK will be home to pioneering businesses, new technologies and green innovation as we make progress to net zero emissions, laying the foundations for decades of economic growth in a way that creates thousands of jobs.
We want to see world leaders follow our lead and match our ambition in the run up to the crucial climate summit COP26, as we will only build back greener and protect our planet if we come together to take action.
Not to mention COP26 President-Designate Alok Sharma:
Long term targets must be backed up with credible delivery plans and setting this net zero focused sixth Carbon Budget builds on the world leading legal framework in our Climate Change Act. If we are to tackle the climate crisis and safeguard lives, livelihoods and nature for future generations, others must follow the UK's example.
https://www.gov.uk/government/news/uk-enshrines-new-target-in-law-to-slash-emissions-by-78-by-2035#:~:text=The%20UK%20government%20will%20set,today%20(Tuesday%2020%20April).&text=Today's%20world%2Dleading%20announcement%20builds,a%2078%25%20reduction%20by%202035.
It is estimated that switching to outdoor production could drop greenhouse gas emissions by as much as 96%. Surely in line with commitments to lower emissions this would be a better option, so what's the catch? Well prohibition has driven grow masters and their cannabis production underground. Plant control has become so refined in these spaces that yields are sky high, crops rarely fail. The industry Green Rush is in full flow with capital abundant but with private money comes shareholders who want to win at all costs. Once down the rabbit hole do you come out?
The script is right on point but like many before it the delivery is questionable. Cannabis cultivation gives the UK a brand new industry in our time of need, post covid we see a struggling economy in need of a quick fix. Indoor cultivation could well be that fix, we know there is a huge illicit market that caters to both medical and recreational users. Job creation would naturally follow, but at what cost? At this point it would appear at the cost of future generations that we have committed to supporting.
Many advisors on the climate topic have championed the strengthening of UK policy frameworks through cross-departmental net zero strategies. Resulting in private investments to low carbon goods and services, supply chains, jobs and skills. This sounds great but from the early movers we have seen in the cannabis industry, the implementation of net zero strategies have yet to come to fruition.
As we have seen in North America, early movers have the advantage in a nascent market but long term the cracks widen.
https://www.theguardian.com/society/2020/mar/18/cannabis-canada-legal-recreational-business